Jockimo was the first Underwriters Laboratories (UL) classified anti-slip flooring tile product on the market. Liquid Lava™ exceeds the ADA (Americans with Disabilitites Act) requirements.

Our tiles are made up of two sheets of polycarbonate. The top is an anti-slip surface and the lower is a shockproof layer. The two sheets are combined and sealed with rigid polycarbonate, becoming a single piece. Polycarbonate is a plastic material that perfectly withstands shock or impact when applied at room temperature. The tiles are approx. 1/4" thick.

Each tile is tested individually by overloading half of the surface with a load distributed which amounts to 500 kg per square meter.

Tiles which do not have proper support (resting on a flat surface) or which are not fixed to the floor could bend slightly because of the passing of time or heat. This problem can be solved prior to the installation process. Please follow the instructions below for installation and storage specifications. It is normal that after a period of use small air bubbles can form within the tile' this is normal and one should not be concerned if this occurs.

Standard colors are available as well as custom colors if required

The liquid within Living Surfaces™ Liquid Lava™ floor tiles is non-toxic.

Living Surfaces™ Liquid Lava™ products are patented products. It is normal to see small air bubbles within the tiles' this is normal and one should not be concerned if this occurs. In fact, this adds to the playfulness of the product for patrons.

Living Surfaces™ Liquid Lava™ is a patented product.
---
Technical Data
Thickness: 1/4" (6-7 mm)

Weight: 5.8 lbs. each (2.63 kg)

Shore/Durometer: D 66/77
The hardness testing of plastics is most commonly measured by the Shore (Durometer) test. This test method measures the resistance of the plastic toward indentation. Shore Hardness is the preferred method for rubbers/elastomers.

Fire reaction: class 1

Liquids used are non-toxic and safe for all environments.

Top surface meets ADA requirements for anti-slip.


---
Installation Instructions
There are three ways to install our Living Surfaces™ Liquid Lava™ flooring tiles:
1.) Butt joint the tiles without sealing the joint. In most instances Living Surfaces™ Liquid Lava™ floor tiles install very much like any ceramic tile - they simply do NOT require grout or mortar. This is the method in which most flooring tiles are installed.
2.) Silicone the joints. This method can be utilized when waterproofing of joints is required. Installation can be messy if the installer doesn't take the time.
3.) In the case of hospitals, etc. the joint lines need to be welded with a pvc cord (small machines which weld the joints together)' which is a simple and standard procedure for experienced installers.
4.) Care should be taken when installing tiles in direct sunlight. Direct unprotected sunlight exposure installation is not recommended. Direct sun exposure through a window is ok but the tiles will require appropriate spacing around them to allow for proper contraction and expansion of the tile due to heat build up.

Tiles should always be laid on smooth and flat surfaces. The surface must be:
- Hard – non pliable
- Dry – The degree of humidity should not be more than 3%. Test the dryness using a hygrometer if there is a question as to the dryness.
- Smooth – The surface the tiles rest on should be completely horizontal and flat. Any differences in level can cause a non-uniform color distribution. Apply a leveling product before installation if the surface is not already level.

Use polyurethane or aqueous base bi-component glues - example (MAPEI G19). For a temporary installations use short strips of an industrial double sided tape along the entire perimeter of the tiles. (Use caution during the removal of the tiles.)

DO NOT TRY TO BEND OR FOLD THE TILES IN ANY WAY. Tiles should not be cut in the field - this will cause failure of the tiles.
---

Storage
Attention should be paid to the environmental conditions which occur during installation and/or storage. Storage should also involve superimposing the tiles two by two to avoid bending of the tiles.

The tiles MUST be kept in a horizontal position during storage.

When the tiles are not installed permanently, the perimeter of the tiles is sensitive to impact blows. Move and handle with care.

The Living Surface™ Liquid Lava™ floor tiles resist temperatures up to 140º F (60º C), however the best results are obtained at room temperatures between 50ºF (10º C) and 104ºF (40º C). The tiles react normally at lower temperatures as well but are more sensitive to damage at colder temperatures.


---
Maintenance
To obtain best results, periodically use an auto polishing metallic wax. This should be applied ONLY with a mop directly to the surface. (The tiles can be cleaned using common detergents found within the home.) Do NOT use automatic cleaning machinery and polishing wheels on the tiles. The rate at which the tiles should be cleaned depends on the amount of traffic that may occur for each installation.

Do not use solvent wax, and always avoid PVC solvents and acetones. Care should be taken when the tiles butt against carpet or other flooring products which automatic cleaning machinery is used to clean. These machines can cause SERIOUS damage to the tiles, and caution should be used in these installations.

Place protective pads under furniture and chair legs to protect the tile surface.


---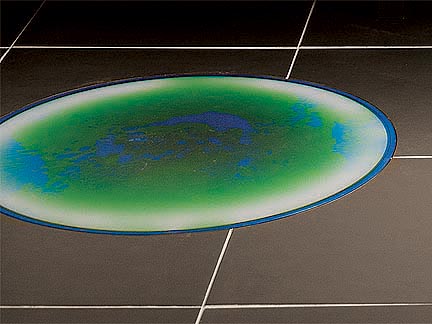 Cleaning advice
Ink, Blood, Mustard, Tomatoes, Urine –
Use diluted chlorine or hydrogen peroxide (30 volumes) and add a few drops of ammonia or alcohol vinegar. Apply to surface without rubbing and rinse thoroughly.

Rust –
Use rustproof or oxalic acid (rinse).

Paint, Rubber Marks, Ball Point Pen, Marker, Hard Oil –
Use mineral turpentine. Rub with detergents and rinse thoroughly.

Cigarette burns –
Rub slightly with a double abrasive paper. Apply an emulsion over the surface.